Skip to Content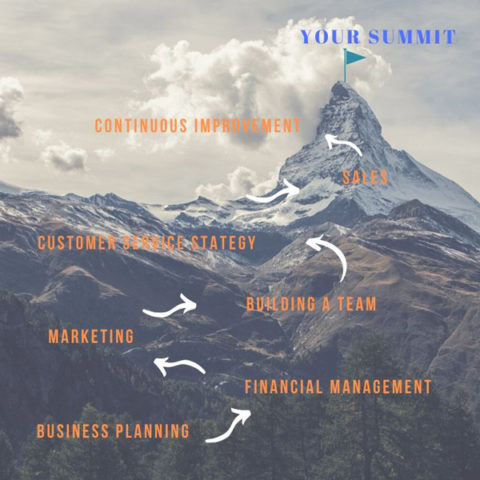 BUSINESS PLANNING
This is the start of all activities. An effective plan defines "winning." The vision and mission of your company must be clear. Once written, an effective Action Plan must be developed. The Action Plan is an essential road map that guides you towards your Summit. Only through consistent and lasting implementation will you achieve your Summit. Our coaches guide you through the business planning process and then ensure successful implementation through regular follow-up.
FINANCIAL MANAGEMENT
Profitable, sustainable growth can only happen with a solid understanding of your numbers. More than just dollars, "Knowing Your Numbers," refers to the meaningful tracking and reviewing of the key financial and non-financial drivers of your business. Non-financial data often includes sales and productivity tracking. Once the driver are understood, a living budget can be created. Along with the Business Plan, the budget adds to your roadmap towards "winning." It provides the goals against which you will measure success.
MARKETING
This is the driving force of your business. A business must have a constant flow of leads that will keep you in the public's eye, and will ultimately be the foundation of your growth. True success is achieved when a business is always marketing. And every employee, at every level is involved. Our coaching team is up-to-date on the latest marketing trends and can help you make sense out of a shifting business environment.
BUILDING A TEAM
This is probably the most important and most overlooked aspect of running a successful business. Ask yourself this question: What do I do? Answer: hire people and teach them the systems that run the business. You must find great people and empower them to help you grow your business and satisfy customers (better than you can). Implementing systems to recruit, hire and train employees is a foundation to Reaching Your Summit.
CUSTOMER SERVICE STRATEGY
"Moments of Truth," happen every day with your customers. Are you certain of what your employees are doing and saying in these moments? These events should be scripted and trained. If you write a script and practice it, you will achieve more consistent results. Your entire team must understand the importance of every interaction with customers as an opportunity to succeed.
SALES & ESTIMATING
This is the cornerstone of profitability. Sales is not a complicated or mysterious process; nor is it random or irregular. Following a consistent process will bring more consistent results. Do you understand why your customers are buying? Are you able to quickly dis-qualify non-buyers? Can you bond well with them and build rapport so that dealing with objections is about more than price? Additionally, tracking the volume of leads and closing rates reinforces your planning and provides accountability for your team.
CONTINUOUS IMPROVEMENT
You have reached the Summit when your business runs itself. Effective systems are reliable, repeatable, and deliver a consistent profit. In addition, formal implementation, management, and process improvement programs ensure continued success. Imagine every system working together in total perfection. The true value of your company is not grounded in its assets, customer lists or even its people. The true value of your company is in its systems.
Take the Next Step for Your Business