Skip to Content
Stage 1 of the Succession Planning Process
Stage 1:  Exploration and Foundation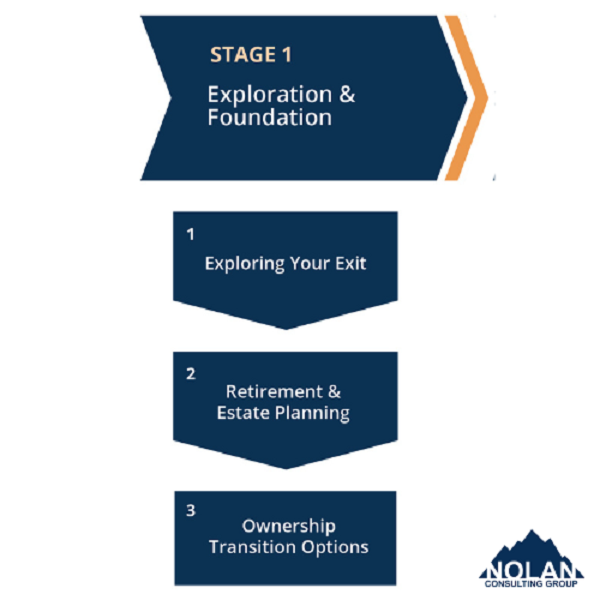 Let's Get out of the Hallway
It's time to explore options for your next journey as you transition out of business management and ownership and the team at Nolan Consulting Group can help you develop options for achieving an intentional pathway for engaging in your passions and interests.  The first stage of the Succession Planning Process, commonly referred to as the SPP, focuses on exploration of your options and building the foundation for the timeline ahead.  By proactively planning, you can minimize disruptions, maintain client trust, and preserve the legacy you've built.
Step 1: Exploring your Exit
We know it is overwhelming to think about life after the business and what retirement might look like. Whether it feels far off in the distance or you just can't quite picture how it will happen, you are likely bouncing between a range of directions of what that pathway can look like. From – do I want to want to totally retire? How can I keep my mind still busy? What will I do?
Working with a Coach can help get your "mind out of the hallway" and begin building a framework of where to start. We'll get you thinking and visioning!
Do you know what you want out of your business?
What does the timing look like?
What do you want to do in your next chapter?
Step 2: Retirement & Estate Planning
Now comes the important financial component. We must evaluate your financial readiness for transition, plan for future savings, and determine if you have the right advisors in place to see you through the transition. Professional service providers play a key role in your transition planning as you work to leverage their expertise regarding legal counsel, estate planning, tax planning, and financial advising.
Do you know how to create your personal balance sheet?
How do we define Sources of Cash Flow?
Do you have a Real Estate Portfolio?
Step 3: Ownership Transition Options
When you have an idea of the transition path, perhaps it's selling your business, we want to ensure you understand the roles and relationships between ownership and management, while assessing the management team's engagement. At Nolan Consulting Group, a Coach will work with you to understand the value of the business and how it applies to the process of identifying a purchaser through structuring a deal and evaluating funding options.
Have you identified a buyer? Internal or external prospect?
Do you understand your role in the process?
How do we properly structure the deal?
Working through this Stage of Exploration and Foundation with a Coach at Nolan Consulting Group can open up the possibilities of your desired outcome and establish a framework for moving forward. We are lasering in with focus and intention on your future and the timeline for action.
Learn More about Stage 2 of the Succession Planning Process. 
Contact us to Take the First Step of the SPP
If you are a business owner ready to get thoughtful about the succession of your business or want to get real about designing your retirement plan, contact us today to schedule a discovery call and learn more about our program and coaching philosophy.