Skip to Content
Stage 2 of the Succession Planning Process
Stage 2: The Next Chapter and Transition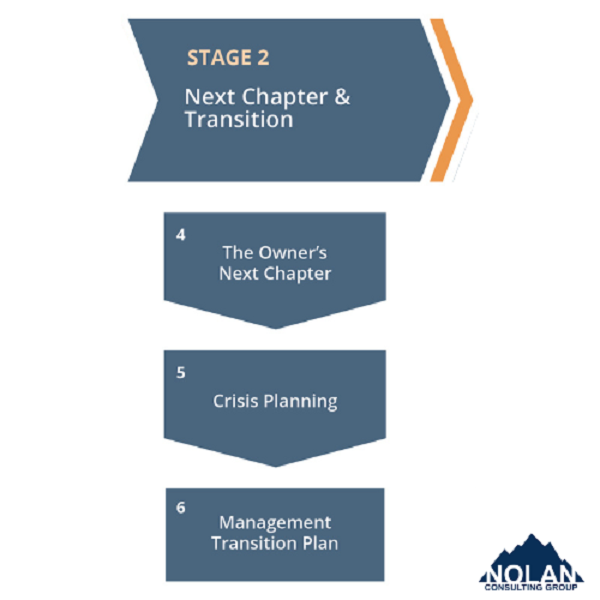 Road mapping your 2nd Mountain
The second stage of Nolan Consulting Group's Succession Planning Process (SPP), focuses on designing the Owner's Next Chapter & The Transition Timeline.  As important as it is to be well intentioned and thoughtful about the next chapter of the business, we strongly believe the same intention should be applied to you, the business owner, in how you want to spend your next chapter of life. We recognize that many owners feel defined, as an individual, by the business they have devoted their lives to building.
If conquering the first mountain was about achieving your business success, the second mountain trek is about designing and pursuing your personal primary aim for the life ahead! In an ideal world, what really makes you happy and how do you really want to spend your time?
Step 4: The Owner's Next Chapter
This is an opportunity to think beyond that definition as a business owner and explore what else makes you feel energized and fulfilled.  This is about creating an intentional pathway for engaging in your passions and interests that coincides with your exit plan vision.
What types of things energize you? Think about people, places, and activities.
What values do you hold dear, that help guide how you live your life?
What areas are you already perceived as an expert in (others seek your input and opinion)?
Step 5: Crisis Planning
In thinking about your future, we would be remiss not to pause and recognize the need for a Crisis Plan in your business. This is actually a step that any business owner, of any age and place in life should consider practicing. It's vital and urgent that you have a document to plan who will lead the company and notify everyone close to you where your most important documentation and password credentials are located.
What would happen if something unexpected happened to you? How would the business and your family be impacted?
Would your family know what to do?
How would you want the business to react?
Step 6: Management Transition Plan
In building the roadmap for how you plan to spend your newly acquired time after having transitioned from the business and the crisis plan is in place, it's time to think about that the actual management transition OF the business. This is where we build a foundation for strategy execution, organizational structure, decision-making responsibilities, and succession planning.
What does the organizational chart look like at that time?
What are the critical skill gaps that need to be addressed?
Do we have a new vision defined for the company?
Working through this Stage of creating your Next Chapter and the Transition Plan with a Coach at Nolan Consulting Group is a critical part of the SPP. We want you to be excited about your future, knowing that you have plans in place should anything happen, while also having input on the management transition of the organization. This is now your opportunity to clearly define how you see the business operations years after you are no longer involved.
Click here to transition to Stage 3 of the Succession Planning Process
Contact us to start the Succession Planning Process
If you are a business owner ready to get thoughtful about the succession of your business or want to get real about designing your retirement plan, contact us today to schedule a discovery call and learn more about our program and coaching philosophy.