Skip to Content
Stage 3 of the Succession Planning Process
Stage 3: Development & Communication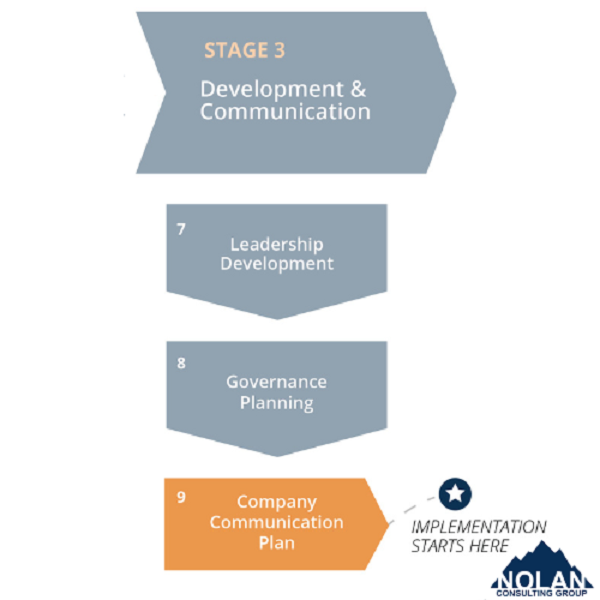 Planning for Execution
The final stage of the Succession Planning Process (SPP) with Nolan Consulting Group focuses on ensuring the team who will move the business forward are the right people for the job. If the development of leadership skills in a certain area is needed, we can bring that to light. As you step out of business, you want the security of knowing the team in place can continue growing the business and build upon what you have created. This is about facilitating the transfer of skills, best practices, and industry insights from experienced leaders to emerging talent. 
It's also a time to think about the future governance of the business and whether designing a board is the right move and ultimately how you intend to communicate the succession plan to your organization and stakeholders over the course of your transition timeline. You've been focused on building this plan, now let's make sure it is properly communicated!
Step 7: Leadership Development
This is the time to focus on the development of the organization's management team and individuals considered for roles in the organizational succession plan. We will provide the framework to work with team members to identify their goals both professionally and personally while evaluating skill sets that need further development or can bring value to the organization.
Do you have a process for individual development plans?
Do you have people on the team you can develop to fulfill the skills gaps?
Do you need to hire for skills that are missing?
Step 8: Governance Planning
As a part of the succession process, some business owners decide that forming a board of directors to have oversight of the management team they are leaving behind is a good way to protect the legacy of their business. Nolan Consulting Group can work through the process with you of identifying if you want a board and if so, what actions need to be taken to establish a board of directors.
What are the different levels of boards and what's the best type for you?
What does the board actually do and who should be a part of it?
What does a board meeting about your business consist of?
Step 9: Company Communication Plan
Communication is an essential component for the success of any business operation and continues to play a critical role in the process of executing your succession plan. We must ensure that there is an effective flow of information at targeted times to key stakeholders and the organization as a whole aligning with the progressive steps of the SPP.  It's essential to communicate the importance of the process and its positive impact on their careers and the company's future.
Who needs to be involved in your communication plan?
What do we want to tell them?
How do we intend to communicate?
Why Choose Nolan Consulting Group?
When working with an NCG Coach, you can expect genuine care for the success of your business. Your success is our success. Your challenges are our challenges. Over a third of our clients have been working with us for 10+ years and we credit that to the relationship and trust we have established with these Business Owners and their teams.
We are deeply committed to the Business Owners we work with and strongly believe in intentional thought and planning for your life after the business. Let us help you design what that looks like!  If you are a business owner ready to get thinking about the succession of your business or want to get real about designing your retirement plan, contact us today to schedule a discovery call!  Start planning, and secure the legacy you've worked so hard to build.