Skip to Content
Succession Planning Process for Contractors
The Succession Planning Process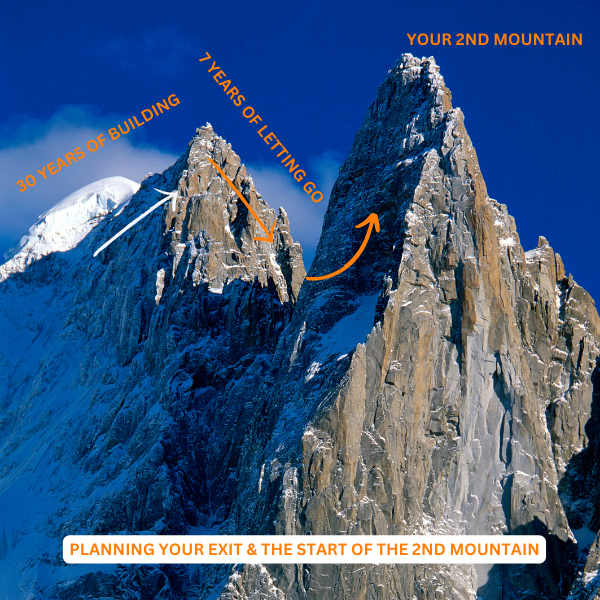 Planning Your Exit & the Start of Your 2nd Summit
As a Business Leader who has poured time and energy into building a business that has impacted the lives and careers of many, there will come a time when retirement is on the horizon. What happens to the business and its people when that time comes? What happens to the brand reputation and the client relationships you have grown and established over time? We believe your organization deserves a thoughtfully curated and carefully executed exit plan. You've spent years building your business, maybe 20-30+, now we need to give that same forethought and energy into thinking about its continuation beyond your involvement and the long term-success of your business.
Like any planning activity in your business, the succession process takes time. Ideally, we recommend getting started when you are five to seven (5-7)  years out from your exit. This timeline allows for exploration, research, design, communication, and execution of your ideal exit plan. Let's make it a reality so you can pursue your next chapter in life – let's climb that 2nd summit!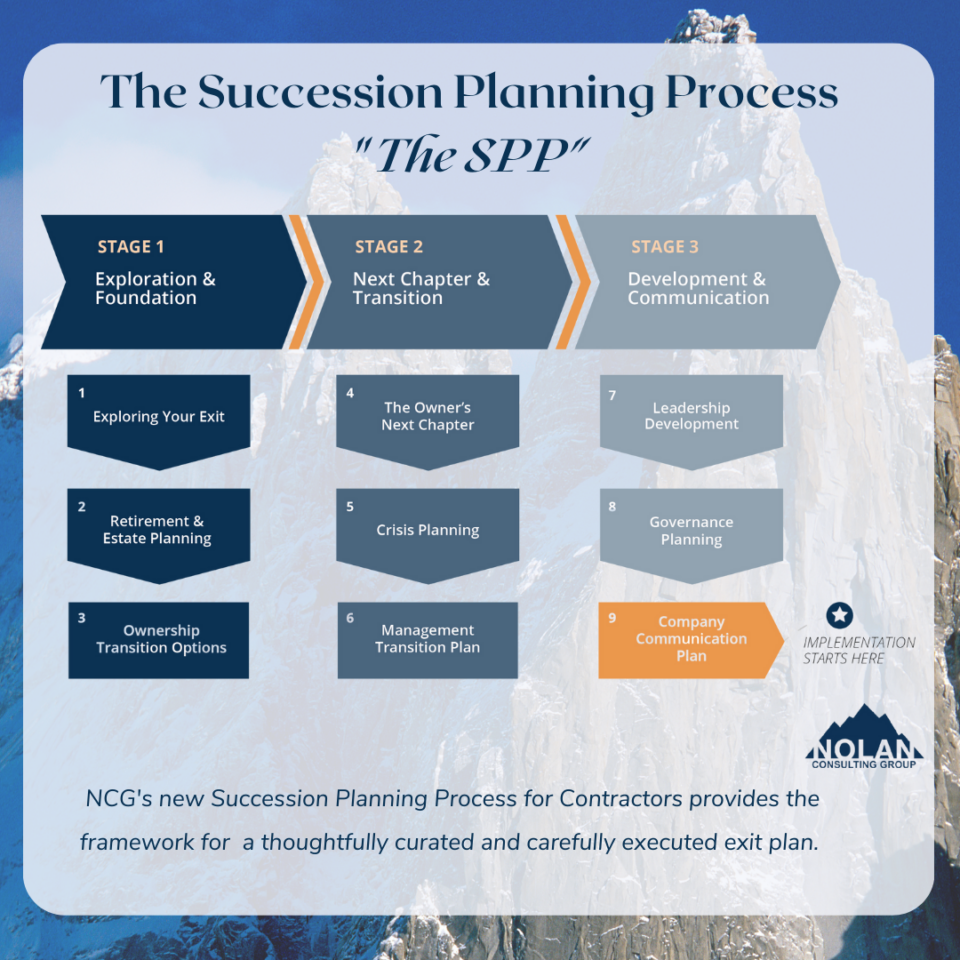 Building your Succession Timeline
We recognize the thought of exploring your exit from a business you've spent years building can be overwhelming and it's our goal here at Nolan Consulting Group to walk you through the process at a pace that is unique to your transitional needs and the trades industry. As with all of our planning programs, the Succession Planning Process is best executed when broken down into multiple stages to allow for digestion and understanding of the task at hand.
The Succession Planning Process is broken into nine distinct steps, with three major transition stages that you will work through with an NCG Business Coach. Each stage has defined planning activities, resources, exercises, and action items for implementation and accountability.
At Nolan Consulting Group, a Coach will work with you through each critical stage of the process over a six-month period with the deliverable goal of designing your Succession Summary and Implementation Plan.
Stage 1: A Time for Exploration & Setting the Foundation of the Plan.
Stage 2: Defining the Owner's Next Chapter & The Transition Timeline.
Stage 3: Development of & Creating the Communication Plan.
At the completion of six months, you have the opportunity to continue your Coaching Relationship via our Summit Member Program for implementation, accountability support, and best practice resources.
Why Invest in a Coach for Your Succession Plan?
As a Business Owner, you have invested so much time, money, and energy into the success of your business. This next chapter is not the time to lose steam! Working with a Coach can provide an outside perspective, a well-structured framework for decision-making and implementation, as well as hold you accountable to the goals and promises you have set out to achieve.
There is also value in working with someone on this major business and life milestone. You do not have to be alone on this journey. Like you have built a high-performing team for your business, build a team to create and execute a successful succession plan and transition that feels right for you.
Why Choose Nolan Consulting Group?
When working with an NCG Coach, you can expect genuine care for the success of your business. Your success is our success. Your challenges are our challenges. Over a third of our clients have been working with us for 10+ years and we credit that to the relationship and trust we have established with these Business Owners and their teams.
We are deeply committed to the Business Owners we work with and strive to understand the goals and needs of the whole person. In that mindset, we are passionate about intentional thought and planning for your life after the business. Let us help you design what that looks like!  If you are a business owner ready to get thinking about the succession of your business or want to get real about designing your retirement plan, contact us today to schedule a discovery call and learn more about our program and coaching philosophy.
Want to learn more about each Stage of the Process > Check out Stage 1!