Skip to Content
Webinar: Taking your First Steps Out of the Hourglass
Clear Actions to Systematize your business and Stop the RollerCoaster. 
Join NCG Managing Partner, Brian Nolan & Senior Business Coach, Andrew Amrhein, on Wednesday March 31, 2021 for a strategic discussion on system implementation and workflow process to help support your company growth! This  webinar is designed for Contractors & Small Business Owners looking to take their first steps
Out of the Hourglass
and build a value business.
Highlighting the Workflow Process & Technology Accelerators! 
Sales Process > Job Staging  >  Pre-Job Planning > In-Production > Completion > Post Completion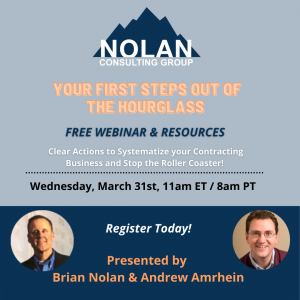 ~ Webinar Materials & Zoom Information to be sent to all registered attendees ~ 
Webinar Participation is free and open to the public.
Take the Next Step for Your Business