Skip to Content
3 Tips to Improve Your Google Map Listing
Contractors Must Do These 3 Things in the Next 15 Minutes to Better Show Up in the Google Map
Contributor: Michael Murray, President of Textbook Painting & NCG Peer Marketing Coach
No matter the specific trade, every contractor wants to show up better in the Google Search Results. We all know that our customers are searching for the top contractors and are using Google as the platform of choice. Sure, social media is great and provides opportunities to connect with potential customers. But – Google is a priority. According to Bluecorona.com, there are more than 1.7 million searches for contractors on Google each MONTH! Your customers are using Google, but are they finding your contracting business?
Whether you own a painting company, a landscaping company, or any trade in the home improvement world,  Google is a gold mine IF you can show up on the first page. There are many tips related to Search Engine Optimization (SEO) that you can implement on your website, but I want to give you three things you must do on your Google My Business page in the next 15 minutes to show up better on the local Google Map. 
I should note, the Google map is such a love/hate thing for me. Google puts WAY too much emphasis on the geographically closest businesses as though someone searching for a contractor was looking to go to a restaurant. Home owners don't want the closest contractor, they want the best! While there is not much you can do to move your business location next to everyone searching, (No, you should absolutely NOT put fake listings on the map to game the system!) there are things you can do to make sure you are showing up the best you can, especially to those searchers near you. 
Note: For the purposes of this article, we are only focusing on what you can do within your Google My Business profile. There are definitely things you can do on your website and this does affect your map results.
Make sure your Category is Correct
The Primary Category you select for your business matters, a lot! This is not the place to get creative. First of all, use one of the suggested categories that Google will provide as you start to type in to the box. Not sure what category to use? Simply do a few quick searches and see what the best ranking companies are using. For Painting companies, the correct answer is "Painter". Always,  in all geographic areas. If you are a Landscaping company, Moving company or another type of contractor, you'll need to take a minute and do a few searches to figure out what Google wants. The most common category that ranks well is the one you need to use as your Primary Category. It is ok to use secondary categories and you absolutely should. These do not show up on the search result but they may help with ranking especially if you offer many different services. Not sure which service to use, then go with your most profitable.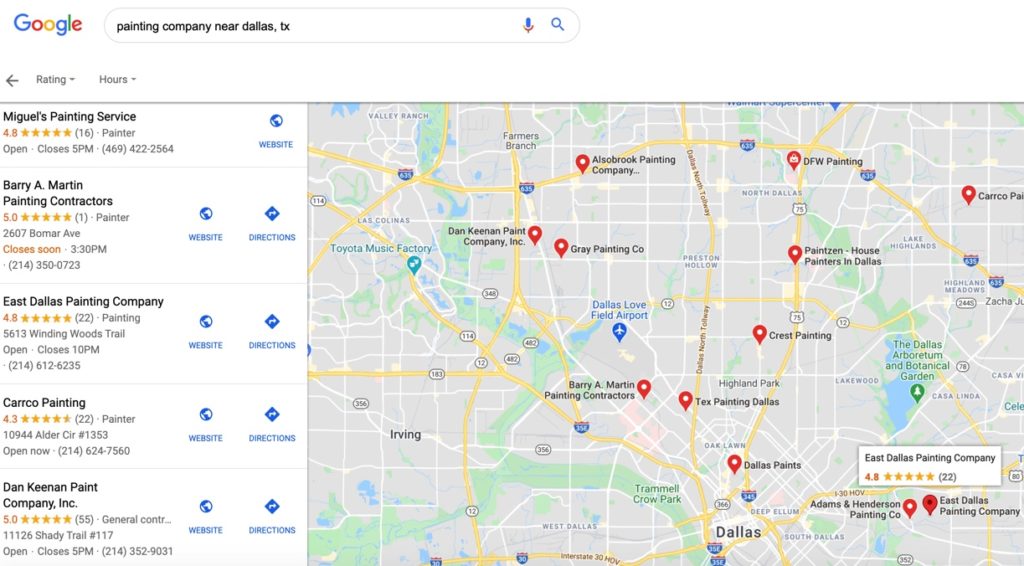 In this example, "East Dallas Painting Company" is ranked third for "painting company near Dallas, TX" but they may move up (or perform better on other searches) by simply changing their primary category to "Painter". The same goes for "Dan Keenan Painting Company, Inc." They are ranked fifth using General Contractors as a primary category. They already have a lot of Google Reviews, so showing up a few places higher on the map through fixing this category error would mean a lot of increased revenue. 
Write a Great (Keyword-Rich) Description
Google My Business allows businesses to write a detailed description (up to 750 characters) that is not only visible to searches but also helps Google better understand what your business is about. (AKA "Google knows when to show your company high up on the list based on the search results"!) Don't try to add keywords for every service and zip code that you service. (Stop trying to market like it's 2005! It doesn't work… and can often be more harmful than helpful.) 
Remember, showing up on Google is only step one. You don't actually get any more revenue simply because you show up on the map. You actually need to attract customers and provide the value that will draw them in further. You can do that with a well written GMB description. 
To Write a GMB Description – 
First, pick out one or two keywords or short phrases that you want to rank better for. Go into a document editor and start writing a description. This will allow you to save it so you can use it on other profiles like Facebook! Explain why your company is unique. Write as though you were talking directly to a customer. If a homeowner asked you "So tell me about your business", how would you answer? Do so in 750 characters and change a few words to best utilize your keywords and you've probably nailed it. It doesn't need to be perfect, what matters is having something there. Most contractors don't even fill out the description at all – so by adding you're already ahead of the game! 
 Be sure to check the guidelines that Google publishes to make sure that your description will get accepted (yes, they do review these). 
List your Top Three Products (Or Services)
Google allows businesses to highlight their products and services (for contractors it will be your services, most likely). You'll need to go to the "Products" section using the menu on the left when logged in to your GMB account. 
Once here, you will need to add a photo (use a high quality "after" photo) and the title of the service. You'll also want to add a detailed description, up to 1000 characters. (Yes, another one!) Remember, the more information you give Google about your business, the more opportunities it has to understand why you are the best business to show a searcher. The more information you can give you a potential customer while they are searching online, the more likely they are to want to learn more about you. Google even allows you to put a button on each Product (or service) so you can link back to your website (ideally to a page specifically about that service). 
There are so many things that contractors can now do in Google My Business and Google is constantly adding new features and making updates. While this list doesn't cover everything you can (and should) do, this is a good starting point. Be sure to ask for a review from every customer and respond to every review that you get. I'm sure you're already doing this, so now be sure to get these three things done on your Google My Business profile so you can make sure more homeowners will see those glowing reviews!
Take advantage of that Google real estate and increase your company visibility! For more information on how to improve your SEO, check out our recent Out of the Hourglass Episode on your favorite podcast app. 
All the best,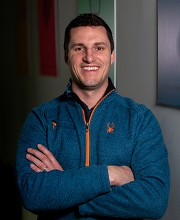 Take the Next Step for Your Business