Skip to Content
Summit Members & Community Leaders
• Small Businesses help our Communities Thrive •
At Nolan Consulting Group, we've had the pleasure to work with so many fantastic companies from all across the U.S and Canada over the last 17+ years. We've experienced their successes and their milestones,  and also the moments of frustration and struggles. We care deeply about our clients, their company dreams and the employees that make up their high performing teams. 
When they succeed, we succeed. When they are challenged, we strive to get in the trenches right along side them. 
So, when a curveball like Covid-19 came into the mix back in March – we narrowed our focus and began working through the challenges right alongside them, like in any other situation. In that time, we witnessed our clients working tirelessly from the start to monitor and adapt to the rapidly evolving environment,  redirect their operations, and educate themselves on the PPP and other loan opportunities. But,  more importantly, we also saw how diligently business owners worked to care for their employees and communities surrounding them. The conversation revolved around making sure their employees and their employees' families were taken care of physically and emotionally connected during quarantine – this should not go unnoticed.  
At NCG, we commend our clients and ALL the Small Business Owners across the country who are grinding day in and day out to keep their businesses afloat  – to keep their employees employed and their communities alive. 
Over the last several months, Summit Members have purposefully given back to their communities in a variety of ways –  Supporting Essential Workers, Supporting Teachers, Supporting Local Restaurants and more! 
While not nearly a comprehensive list,  we'd like to recognize and thank a handful of Summit Members for the work they have done. And to those doing work quietly behind the scenes, you know who you are – we commend you, we appreciate you and we're honored to work with you all.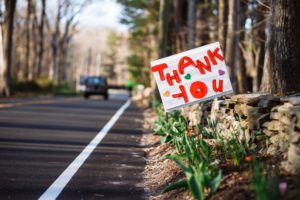 Supporting Essential Workers & Teachers
Paint it Forward & Charity Paint Programs 
Specialty Community Giveback – Supporting Restaurants, Small Business & Community
And to all the other Small Businesses out there supporting their employees and communities – we applaud you!
Awesome work to all!
The Nolan Consulting Group Team
Take the Next Step for Your Business