Skip to Content
Dennis Moffit Painting's 2nd Annual Thanksgiving Makeover Giveaway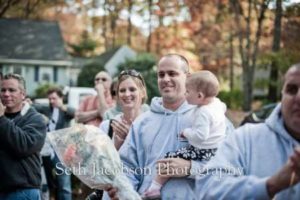 October 25, 2010 (Wakefield, RI)- Dennis Moffitt Painting is proud to announce the 2nd Annual Thanksgiving Home Makeover Giveaway winner is Adam Aref of Wakefield, RI. There were over 50 entries and 200 votes into this year's Giveaway.
Adam is a 10-year-old boy that has Duchenne Muscular Dystrophy. His home is not accommodating for the type of movement he will need in the future. He will not be able to move freely through his own house without major handicap-accessible modifications.
Adam was nominated by Courtney Caswell, his PASS worker that originally met Adam 5 years ago when she was working as a counselor at the local Wakefield YMCA. Adam received over 40 nominations and each one included that, "Adam is a normal 10-year-old boy that just wants to feel normal."
The South County community will be coming together to turn an unused, attached 2 car garage into a new bedroom suite and handicapped-accessible bathroom. In the coming years, Adam will be able to enjoy moving from his bedroom quarters into the main living space in the house without the assistance of others.
Frank Karpowicz, of Frank Karpowicz Architects, will be designing the space. Greg Bressler, from Picus Woodwrights, will be handling the construction. Bob's Discount Furniture is providing all the new furniture and Kim Peterson, of Kim Peterson Designs will be handling the interior design. Seth Jacobson, of Seth Jacobson Photography, will be providing photography during the event. Photos of the event can be seen on Seth's Facebook Page.
Adam was presented the Makeover Giveaway at his home on Halloween at 1 PM, by the owners of Dennis Moffitt Painting, Dennis, and Michael Moffitt. For more information, contact Dennis Moffitt Painting at 1428 Kingstown Road, Wakefield, RI 02879. www.dennismoffittpainting.com or contact Mike Moffitt at mike@experiencedmp.com or 401-789-2181.
Take the Next Step for Your Business