Skip to Content
It's Here: Nolan Consulting Group's New Podcast, Out of the Hourglass!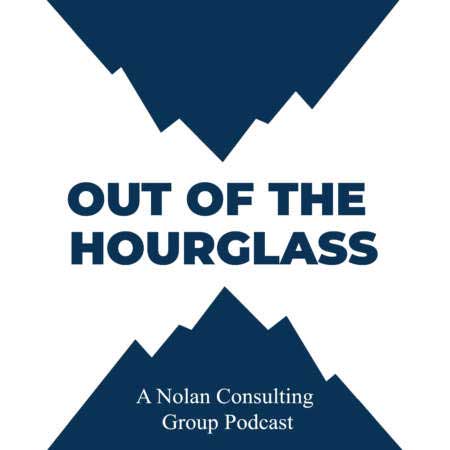 Since its inception, Nolan Consulting Group has provided business owners with a continuous stream of resources and tools to assist in the growth and development of their companies. These resources and tools have come in a variety of forms with the intent to provide new outlets of efficiency, adaptation, and value.
We're now thrilled to bring to the forefront a NEW resource for everyone to access and engage with, Out of the Hourglass, a Nolan Consulting Group Podcast.
Out of the Hourglass, presented by Nolan Consulting Group, is here to help Small Business Owners and Contractors alike visualize their goals, develop their team & build sustainable growth. Each week will bring something new; you'll hear from our panel of NCG Coaches on a variety of topics, guest speakers from top industry resources, Business Owners sharing best practices, and a focus on strategies across the spectrum – from sales to marketing, leadership development, business planning, and more! We're here to take you "out of the hourglass" and reach YOUR Summit. We encourage you to share with your team and peers in the industry!
This week, we're joined by Brian Nolan, Managing Partner of Nolan Consulting Group & Kevin Nolan, CEO of Nolan Painting and Partner of Nolan Consulting Group, highlighting Lessons in Leadership. 2020 has certainly challenged our world in many ways – economically, socially, and environmentally, and the last 90 Days dealing with the COVID-19 situation have been particularly unprecedented. It's important that we take the time to reflect on these challenges and how we're looking to move forward. Brian and Kevin discuss what they've learned about themselves over these last several challenging months, how past experiences have prepared them to overcome, and how they plan to take on the year to come.
Listen and Subscribe to Out of the Hourglass by Nolan Consulting Group on your favorite apps!
Apple Podcasts – Spotify – Google Podcasts – Audible
Have a podcast idea or request? We're all ears! Connect with us at info@nolancg.com or send us a message via Facebook or Instagram! Let's chat!
All the best
The NCG Team
Take the Next Step for Your Business