Skip to Content
Summit Member "Webfoot Painting" Benefits the Community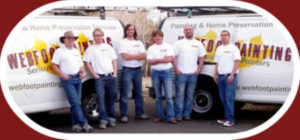 Join us for "Carving for Kids," Saturday, October 23rd from 10 am – 5 pm in Newport Ave Market front parking lot. We'll be selling cleaned pumpkins for carving, already carved pumpkins of various designs, and even custom carved pumpkins with business logos for the office or storefront. 100% of the proceeds will be going directly to the MountainStar Family Relief Nursery.
They are a great organization dedicated to preventing child abuse and neglect in Central Oregon by providing services to keep children safe, parents successful, and families together.
All pumpkins have been graciously donated by the Central Oregon Pumpkin Co out of Terrebonne (known for their massive corn Maize). High Desert Promotions is contributing to promotional material, and the Newport Ave Market is kind enough to let us use their parking lot.
This is going to be a great family event, come stop by and say hello. Businesses interested in logo'd pumpkins can pre-order their pumpkins for pick-up on Saturday!
For pricing information visit our News and Press page.
Take the Next Step for Your Business